How to Sell or Buy Used Printing Equipment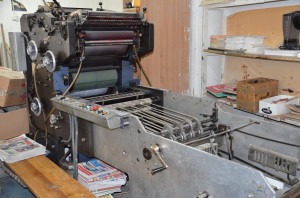 We do tend to associate second-hand products with poor quality and that might often stop us from making really good deals. But there are many cases in which overcoming this prejudice would prove very advantageous.
Purchasing pre-owned copy machines and printers, as well as selling the used printing equipment we no longer need or that we want to upgrade are two options which might turn up to be great solutions if we want to improve our company's financial performance. More than that, taking these options into account is the right thing to do from an ecological point of view.
On the one hand, if the daily work in the office we are running depends on the printers and on the photocopiers, but does not require high performance machines, there is no reason why we wouldn't save up some money by purchasing used printing equipment. As long as we pay attention to some details when browsing through the offers we can find, we are definitely going to find more than reasonably efficient machines, not in the least less useful than brand new ones.
Furthermore, even if the business requires the latest models of printers, there are chances that we will find very recent equipment that has already been owned by other companies. Why is that? Because this sort of items are not only sold when they are too worn-out or out-dated; there are various reasons for which a company can decide to sell their assets – bankruptcy, change of ownership, very frequent equipment update, so on and so forth.
On the other hand, if we work in a business sector in which keeping up with the fast pace of technology change is essential, selling the used printing equipment is simply the sensible thing to do. When our customers have more and more complex request, the best option is to invest in the equipment that will allow us to meet the clients' expectations.
However, who can afford investing constantly in fixed assets? Well, any company could afford it as long as they know how to trade in used equipments. All we have to do is post our offer on the web pages that have been created exactly with this purpose: to mediate the trade of pre-owned printers, presses and photocopiers between companies. This sort of websites, such as Allforprintmarket.com, are a meeting place between those who carry their work in the printing industry, and they are constantly monitored and regularly updated by a reliable team of professionals.
Websites advertise the used printing equipment we have for sale and look for buyers. At the same time, they provide support to those who are looking for pre-owned printers, copy machines and presses, offering the possibility to get in touch with the sellers and receive relevant and accurate details on the products.
Moreover, they encourage the relations between companies that perform in the same domains not only for buying and selling used products, but also with the purpose of building partnerships. So, whether we simply want to replace the printing equipment in our office or whether we are interested in developing our printing business, it is this sort of web pages that we should keep an eye on.
Read more news :
1. Label printer: Thermal transfer printers, markers for electrical equipment identification
2. Printing costs and equipment handed over to free range egg producers
3. Fujitsu, Ecosphere, GoldieBlox: Intellectual Property
4. Wonder machine changed printing
5. Wellington Press charges forward with Ricoh Pro C901
Related Posts via Taxonomies